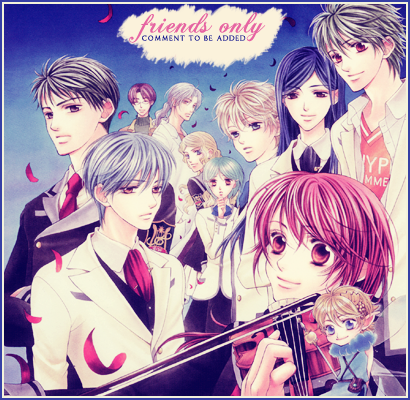 I lock only personal posts and such with ramblings about my favourite manga series (like Vampire Knight, Kobato, Kuroshitsuji, La Corda D'Oro, Akagami no Shirayukihime etc.)
Posts with manga released by me (aka. NeteruMouse) and my fanarts won't be locked.
~will add to friends if: we have common interests, mutual friends
~won't add to friends if: you randomly add me
short
long.
(
Click for links
Collapse
)
I made a short Zero/Yuuki doujin meanwhile working on longer one~ It's 11 pages
I moved NeteruMouse scanlation group to new blog. Look for "With!!" release there:

http://neterumouse.blogspot.com/

Sorry for any inconve niences.

From now on this blog will only contain personal posts.
NeteruMouse is picking up "With!!" manga by Saitou Ken.
It's one of my most favorite for years now, I love it <3 Since CMX closed down and no other publisher took it up for so long now I decided to scanlate 3rd and 4th volume. Working on translation atm. My releases won't be super fast until graduation, though in summer vacations I'll release "With" frequently for sure :3 So please bear with me until exams are over |D
Soon to come: "With!!" by Saitou Ken
Future project: "Nakizakura Kitan" by Saitou Ken
(I'll never have enough of series by this author :'D)
EDIT:
41 pages translated~ \o/
With volume 3 progress
chapter 10 - scanned, translated, edited, typesetted, QCing in progress
chapter 11- scanned,
chapter 12- scanned,
chapter 13- scanned,
chapter 14- scanned,
Current Mood:

optimistic
Today you can get
Current Mood:

refreshed
Few scans of Akagami no Shirayukihime pics from manga volumes (1~4th)
(
They're here... \o/
Collapse
)
Deffinitely it's something I can stare for hours... *Q*^
Current Mood:

optimistic
Current Mood:

gloomy
Here goes
Current Mood:

excited